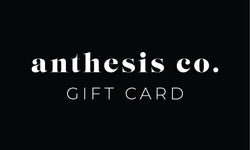 Anthesis Co.
Anthesis Co. Gift Card
Online Gift Cards can be ordered in the amounts provided. They are sent via email to any individual with a valid email address. The recipient of an Online Gift Card will receive an email with a Gift Card Code redeemable only at anthesisco.com.
Photos and visual representation of products represent an overall style and look, which we may not be able to replicate in some instances identically. Flowers are more likely to arrive in bud form to ensure they will last longer. Buds will bloom within couple days of delivery.
The overall design style will always be preserved. Seasons, market conditions, and availability may cause each arrangement to vary. We will always make sure that the whole scheme will match the aesthetic. Any substituted items will be of equal or higher value.